Welcome to Squirrels class
Look at all we have done together over the last six weeks
We looked at the work of Guiseppe Archimboldo. We learnt how to use tools safely to cut, slice, chop and grate.
We made some great looking faces, out of healthy fruits and vegetables.
Look at the display in our classroom.
In maths we have been looking at shape. We drew 2D shapes and found their lines of symmetry.
We made 3D shapes using nets.
Look at our shapes hanging from our classroom ceiling.
Can you name them all?
We can now.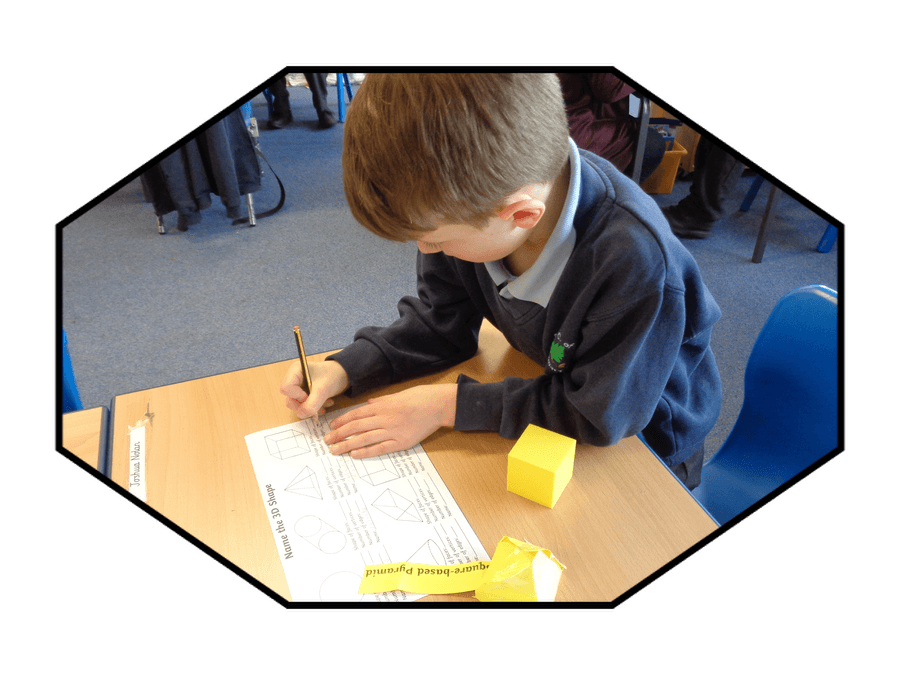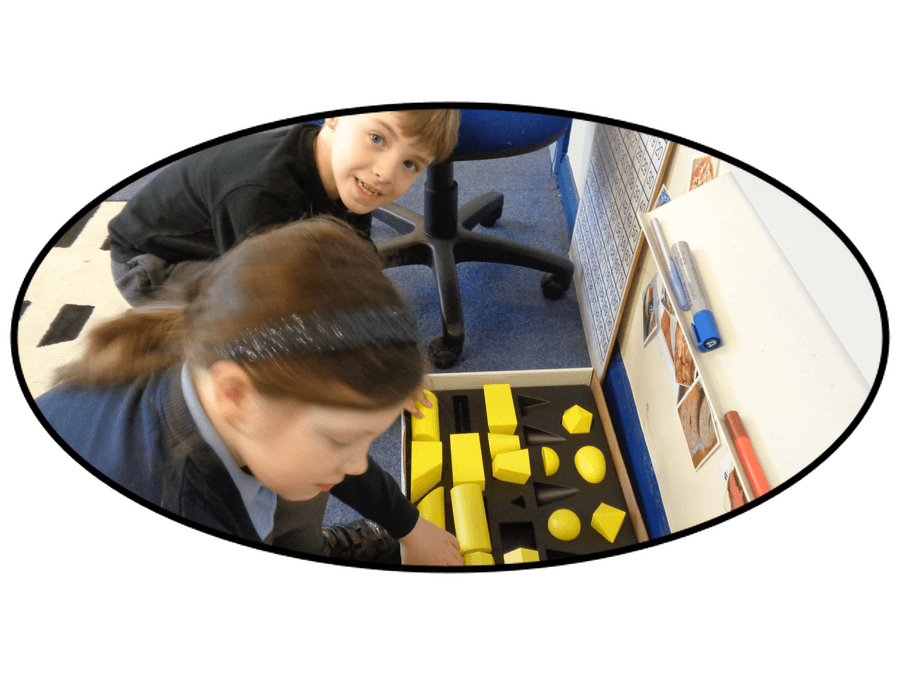 We compared and discovered how many faces, edges and vertices these 3D shapes had. We enjoyed describing them to see if we had guessed the shape correctly.
We know the names and properties of cones, cylinders, spheres, rectangular pyramids, triangluar prisms, rectangular prisms, cubes and triangular pyramids.
Wow, so many shapes.
Our topic this term asks...
How will 5 a day help me be healthy?
Look at our learning in Squirrel Class during Spring term 1 2018
In forest school we have explored and made things with natural materials.
Look at what we made.
We enjoyed the winter weather and the huge ice shapes we discovered.
So much to see and learn about in our wonderful world!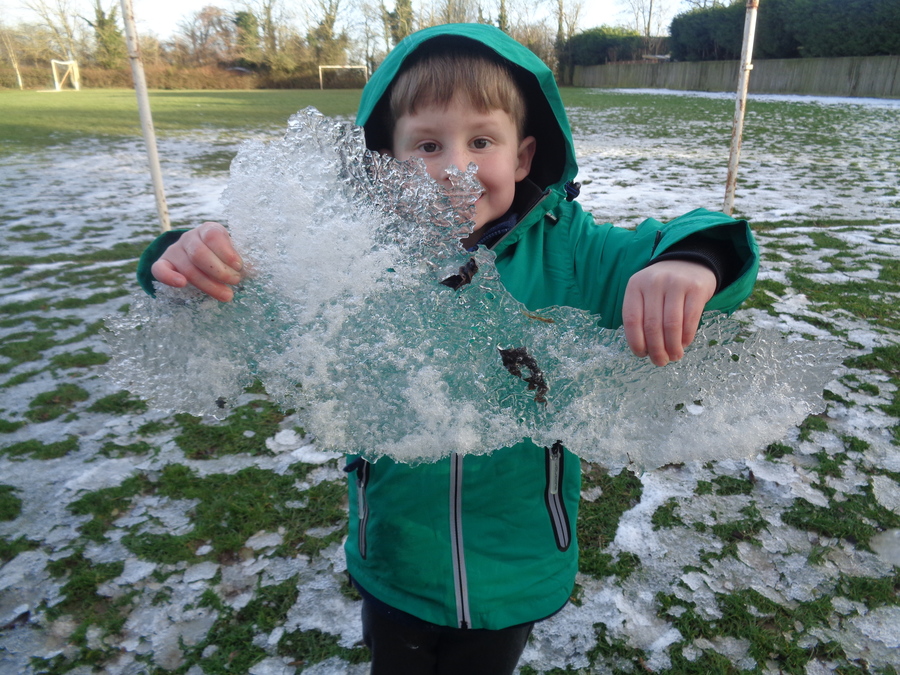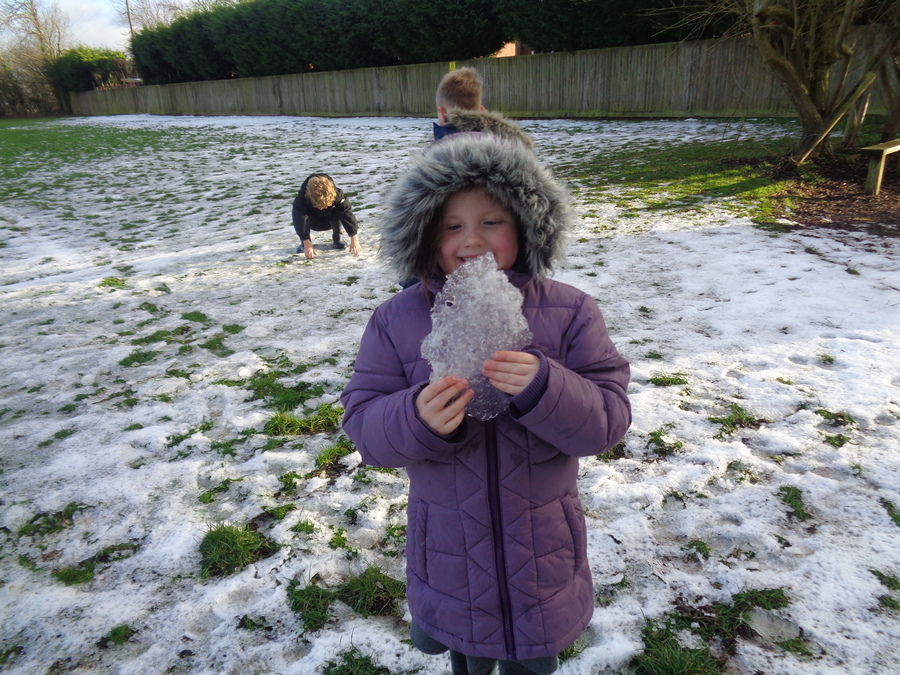 In maths we have been making tally charts, bar charts and block graphs. We collected information and then answered questions about our data reading our charts quickly and easily.
This term Squirrels will have lots of opportunity to further their understanding and knowledge of the geography of our area, as we ask...
What would Mr Squirrel find exciting about our village?
We will look at compass points, google maps, street maps addresses and post codes. We will also look further afield to find out about towns, cities and the countries that make up the united Kingdom.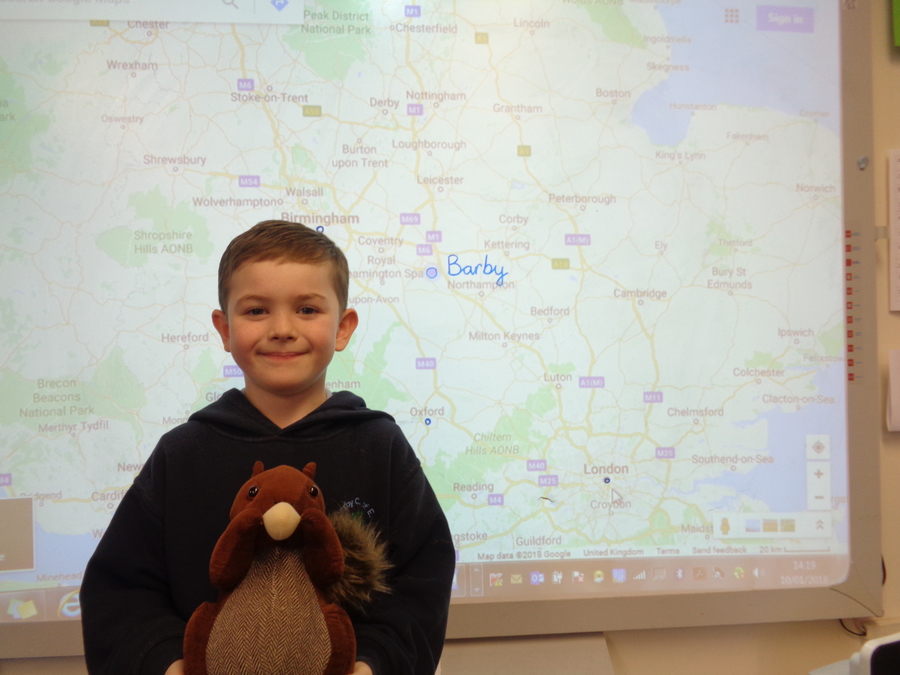 Our Christmas performance was so enjoyable.
Thank you children for using your loudest voices and for being so confident in front of a large audience.
Thank you also to all the parents who made or bought our fantastic "alien" costumes they looked great.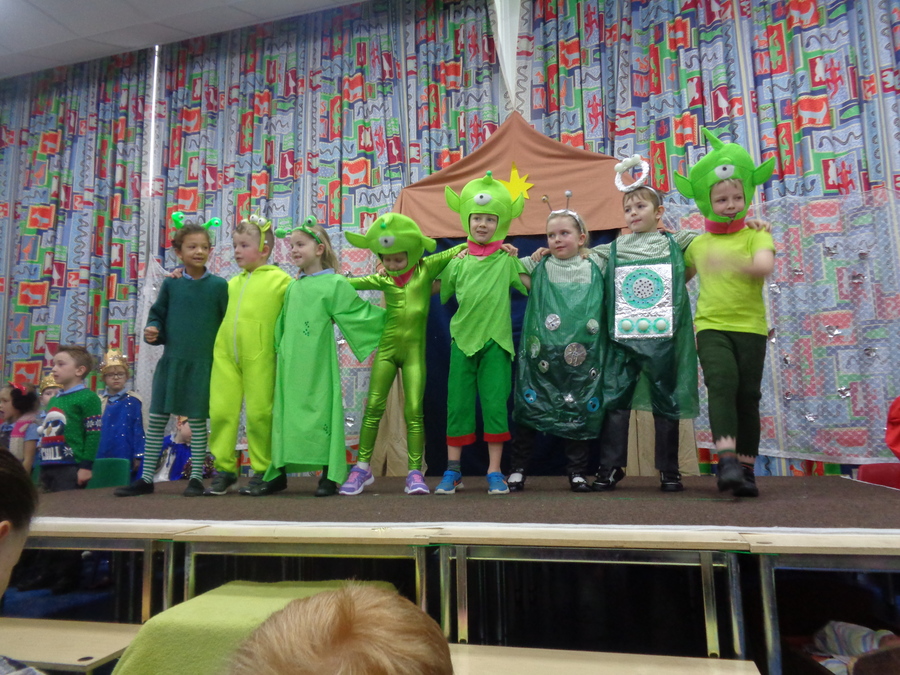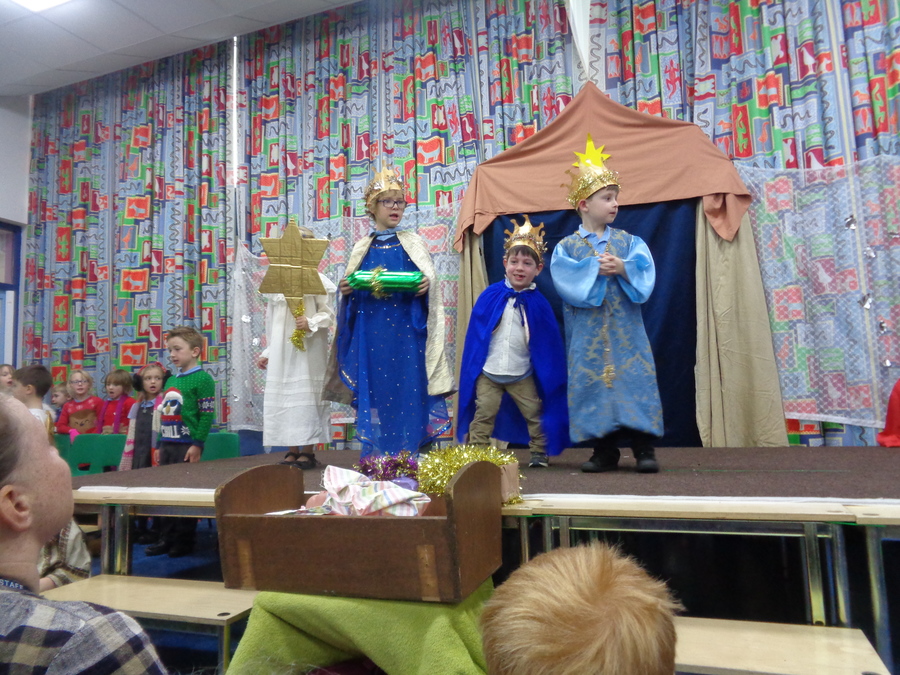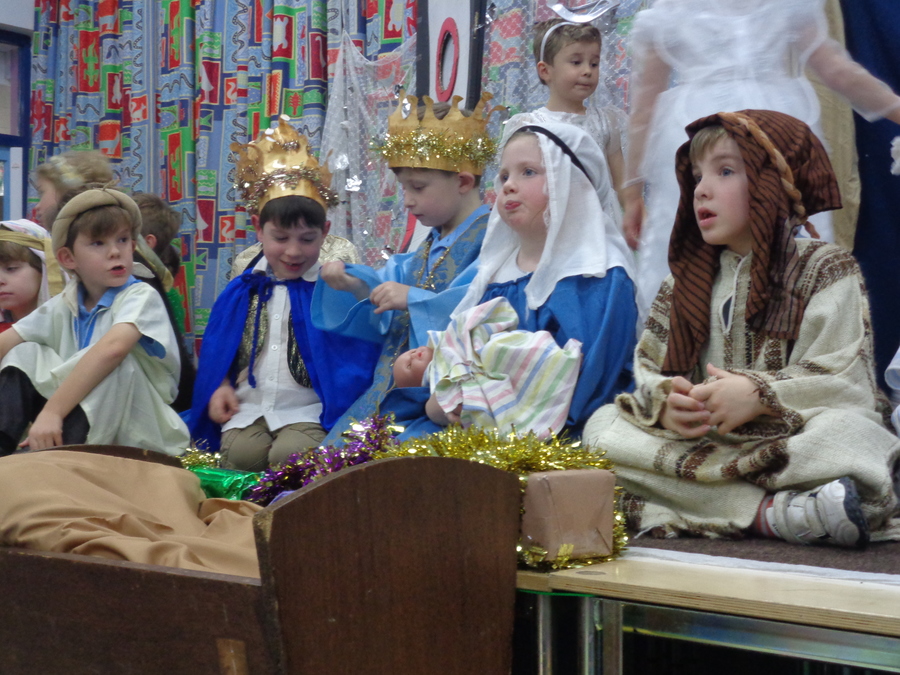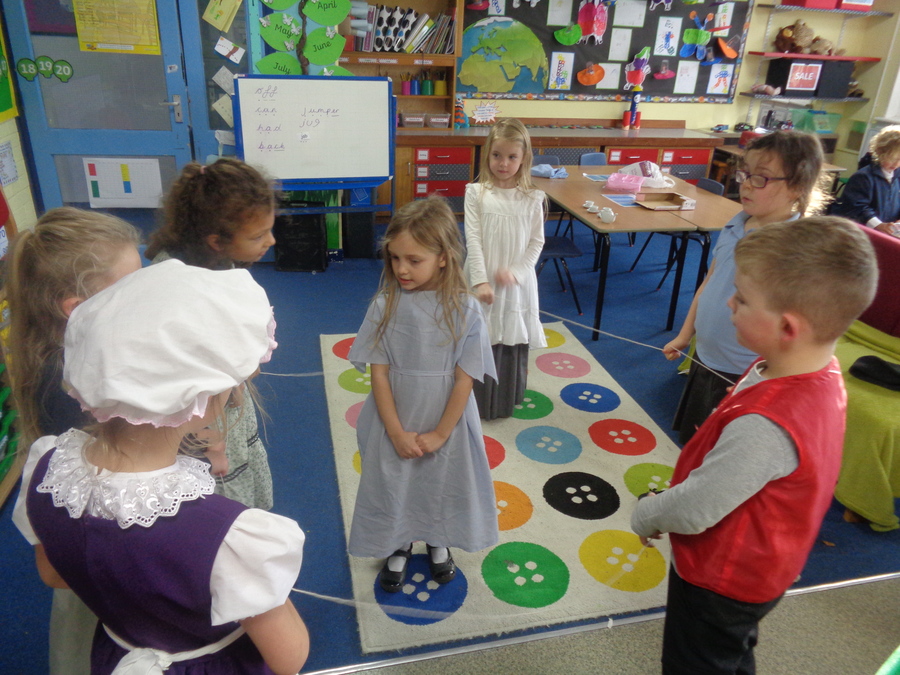 Why is the Wii more fun than Grandma's and Grandad's toys?
To launch our topic this term we stepped back in time and played with toys from the past. Some of us even got dressed up as a child from a poor or rich home. They had very different lives and very different toys to play with. Poor children made games and toys out of things that they found like 5 stones and hop scotch. There were lots of singing games where children would play in groups together usually out in the street as there were very few cars. In rich houses the children would have a nursery full of toys to play with. They may have a rocking horse, a dolls house, Noah's ark, china tea sets, bricks and soldiers. They may have clockwork toys with a key to wind them up.
At forest school today we shook trees gently to find out what was living in them.
We used a white sheet so we could see the bugs easily.
We also had a go at building nests.
It was a really tricky job! Clever birds!
Autumn Term 1
We are looking forward to our trip to the space centre on
Monday 9th October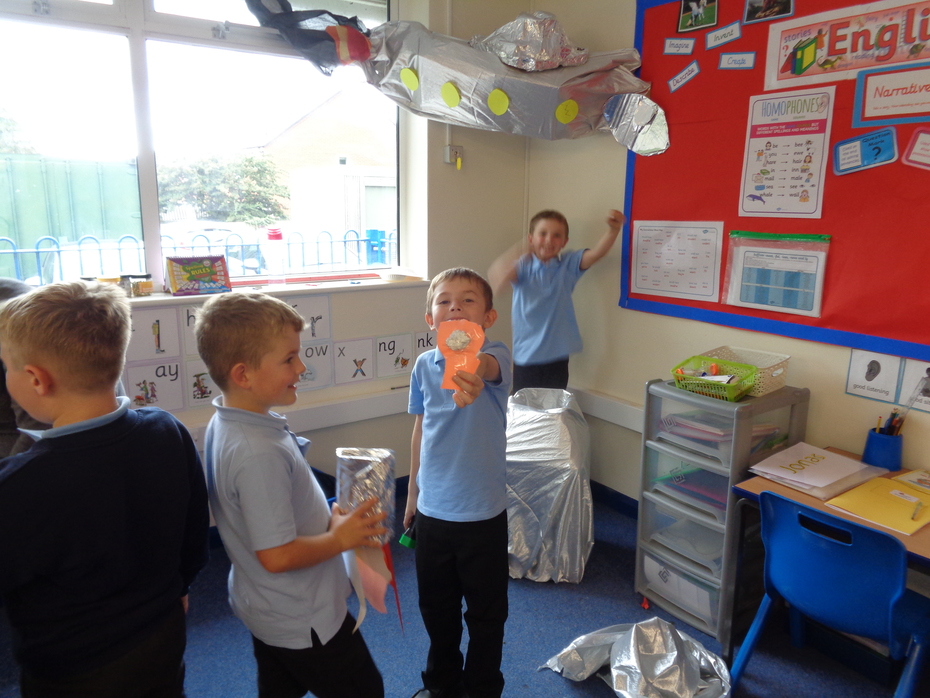 A space ship landed in our classroom!
We have been using talk for writing to text map our own stories and improve our use of capital letters, full stops and commas.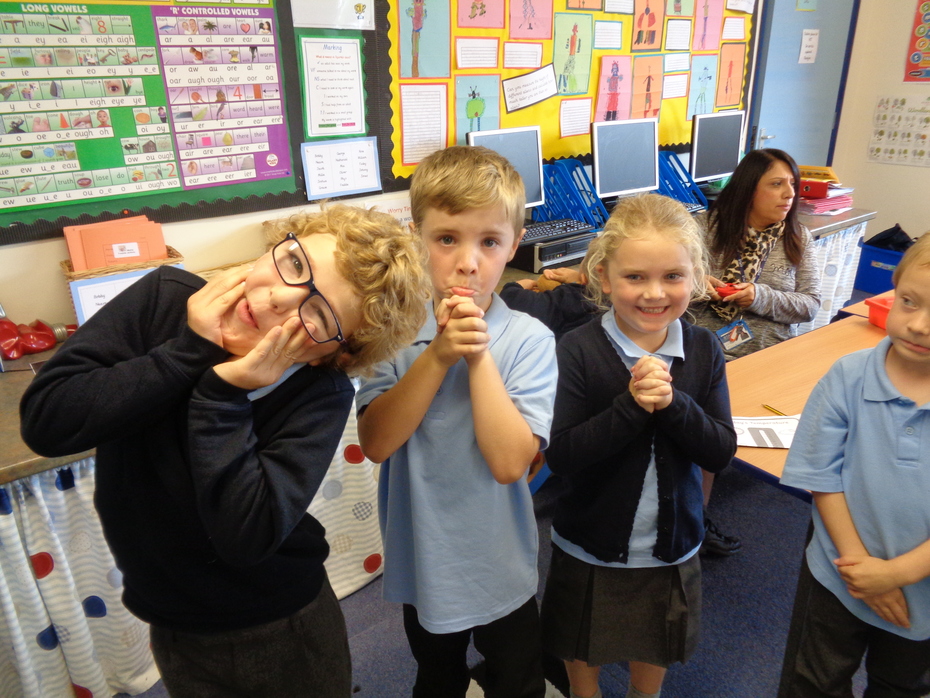 We have also been discovering lots of new experiences in our forest school lessons. We build a big bug house for creatures to rest in over the winter.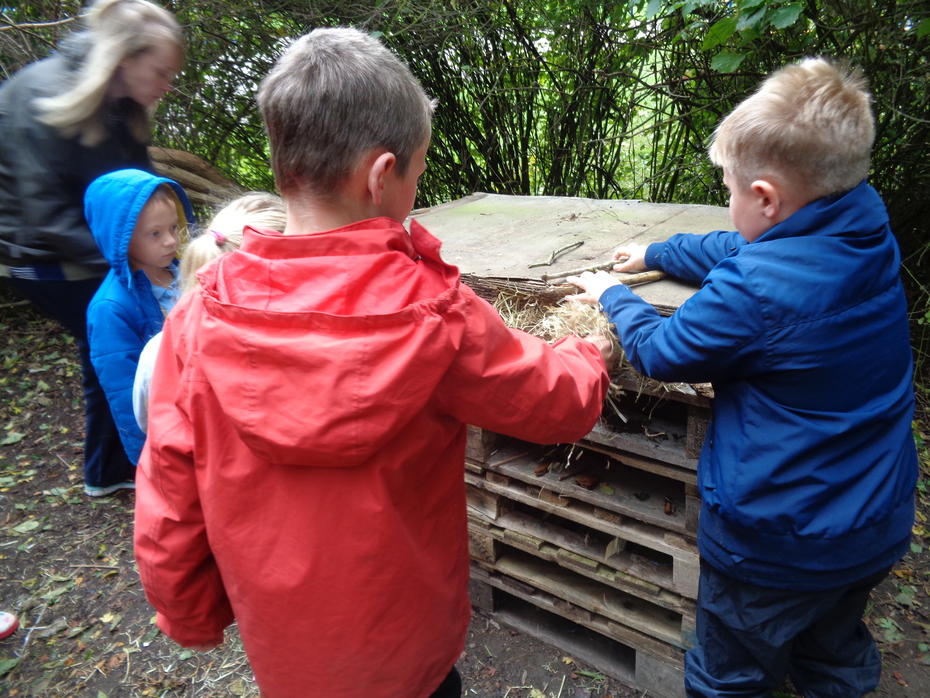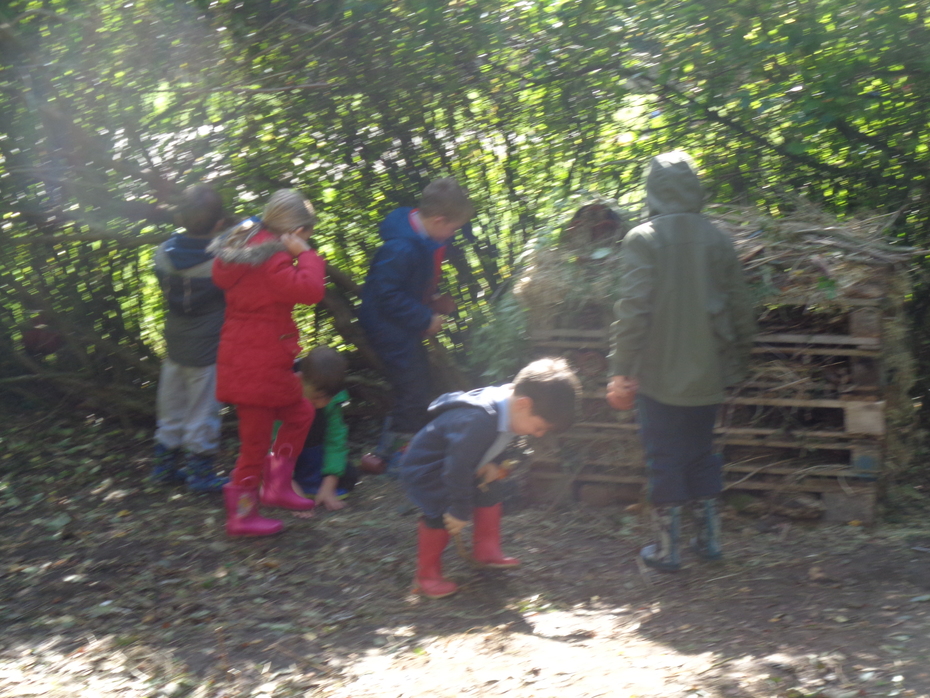 We have been investigating materials and we built a waterproof shelter for Beegu with Mrs Ellis.
Beegu stayed cosy and dry all night!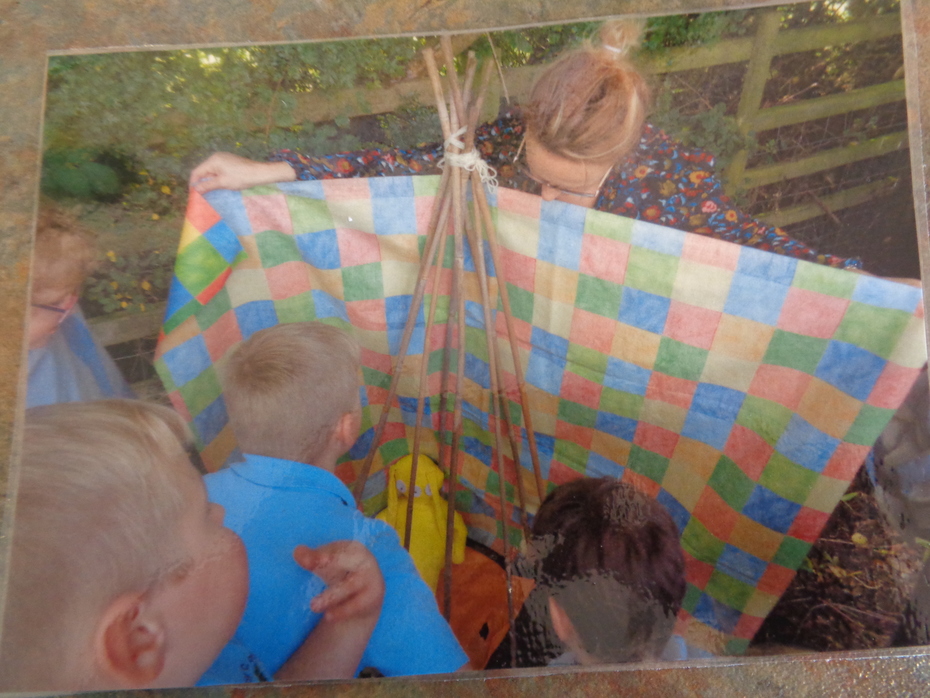 SUMMER TERM 1
Our new topic is called
Nature Detectives
April 2017
Happy Easter Squirrels. Look at all the work we did together last term.
Roshni brought her lovely sari for us to see. Harriet brought her egg and spoon race to play with before we broke up for Easter holiday. Grace brought her own precious camera to show and tell us about. Leah's Mummy kindly brought her very tame chiken for us to see. So many things of interest to share together. Thank you Squirrels, you are all FANTASTIC. Mrs Cresswell
In our writing we have been listening to the story of Wind in the Willows. This narrative text has wonderful unusual word choices and expanded sentences that decsribe the settings and characters. We have used lots of the authors ideas to improve our writing. Here we are acting out particular scenes to plan our talk for writing. In the photographs you can see Rat, Mole and Otter sharing a riverside picnic. We look forward to learning about the naughty Mr Toad and the spooky wild woods.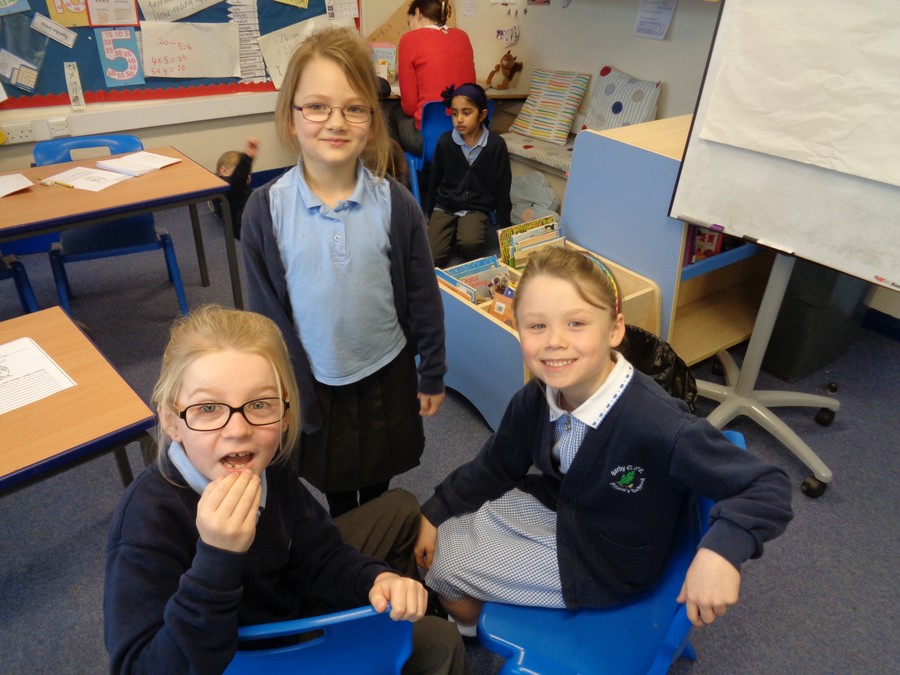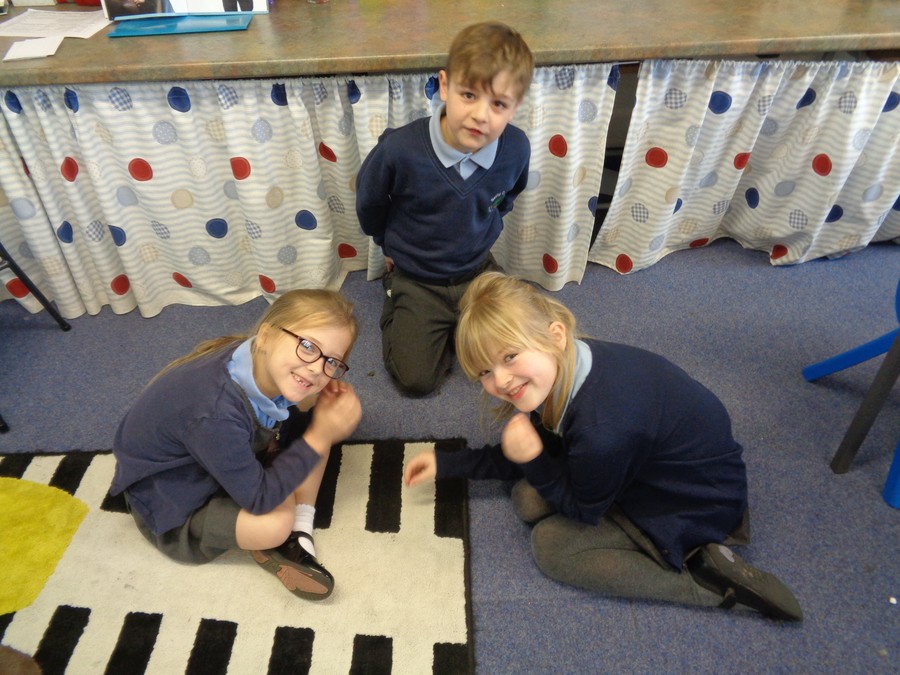 We wore something red and helped raise money for red nose day.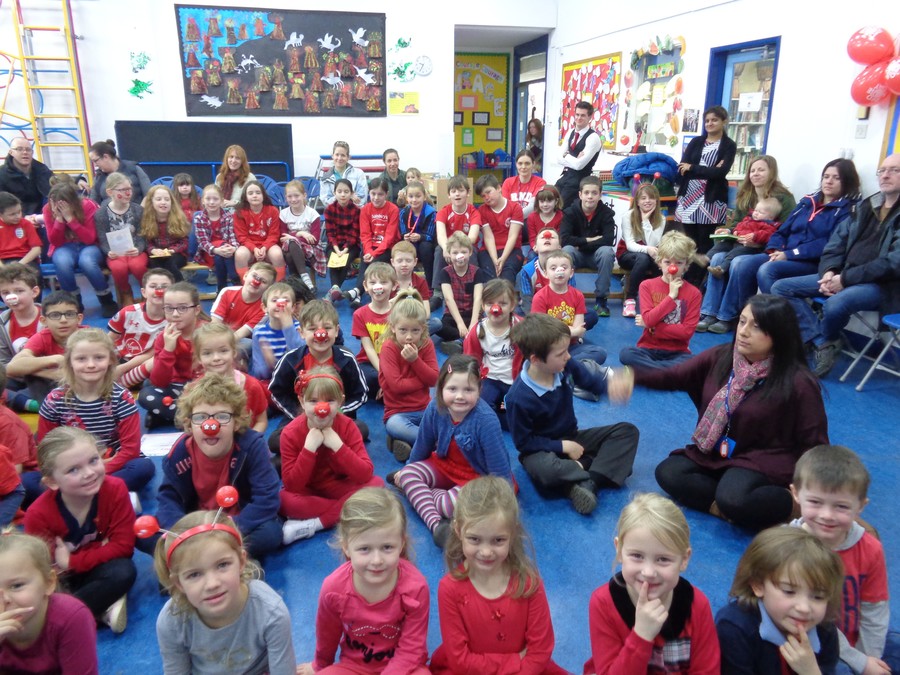 Miss Hynd said goodbye, we will miss her. Some baby lambs came to school. Our football team played an exciting home match even though the score was 0-0 it was a close game with great skills being shown.
We have been measuring in all sorts of different ways. We used scales, rulers, mesuring jugs and weights. We can now read and record our findings using scaled number lines.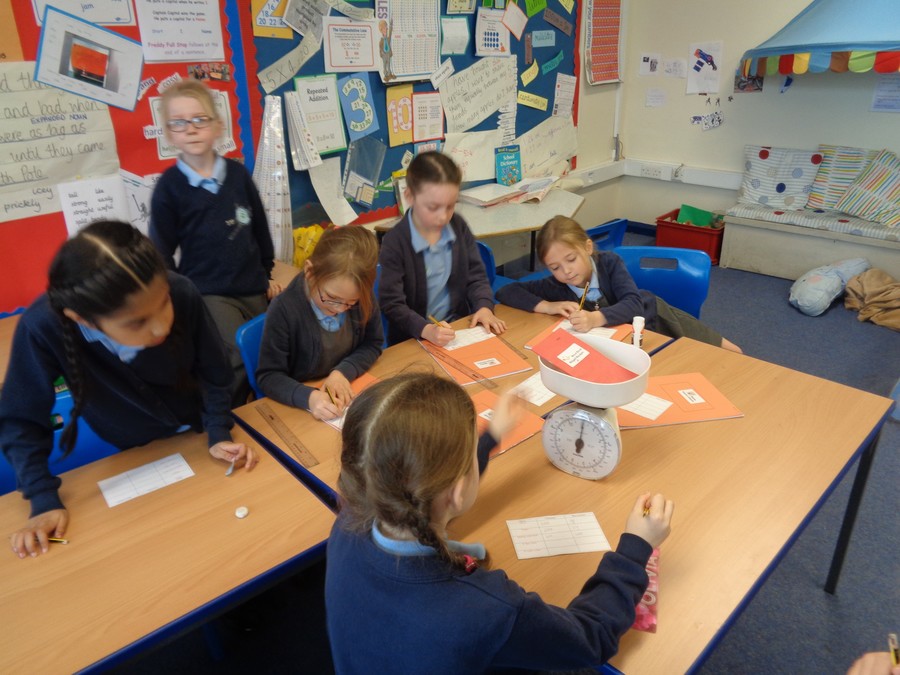 In our maths lessons we have been learning about place value and number patterns in 2,5 and 10 times tables. We use apparatus to help us understand number processes and talk about our thinking to help each other calculate and approach number problems in different ways. We never give up and always find some answers to our problem solving.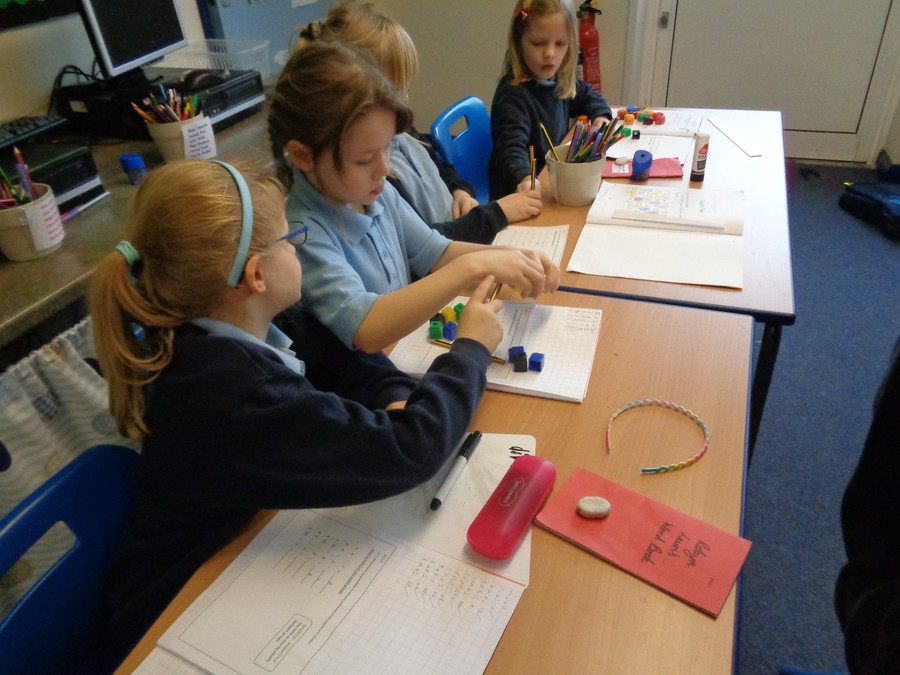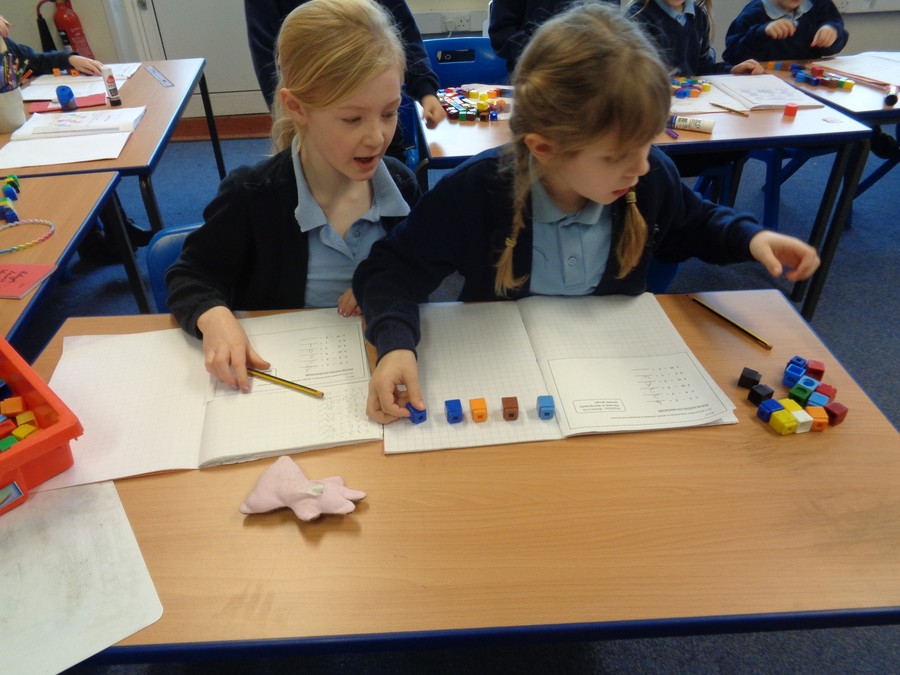 On World Book day in March we dressed up as many of our favourite characters. We listened to lots of different stories told by different teachers.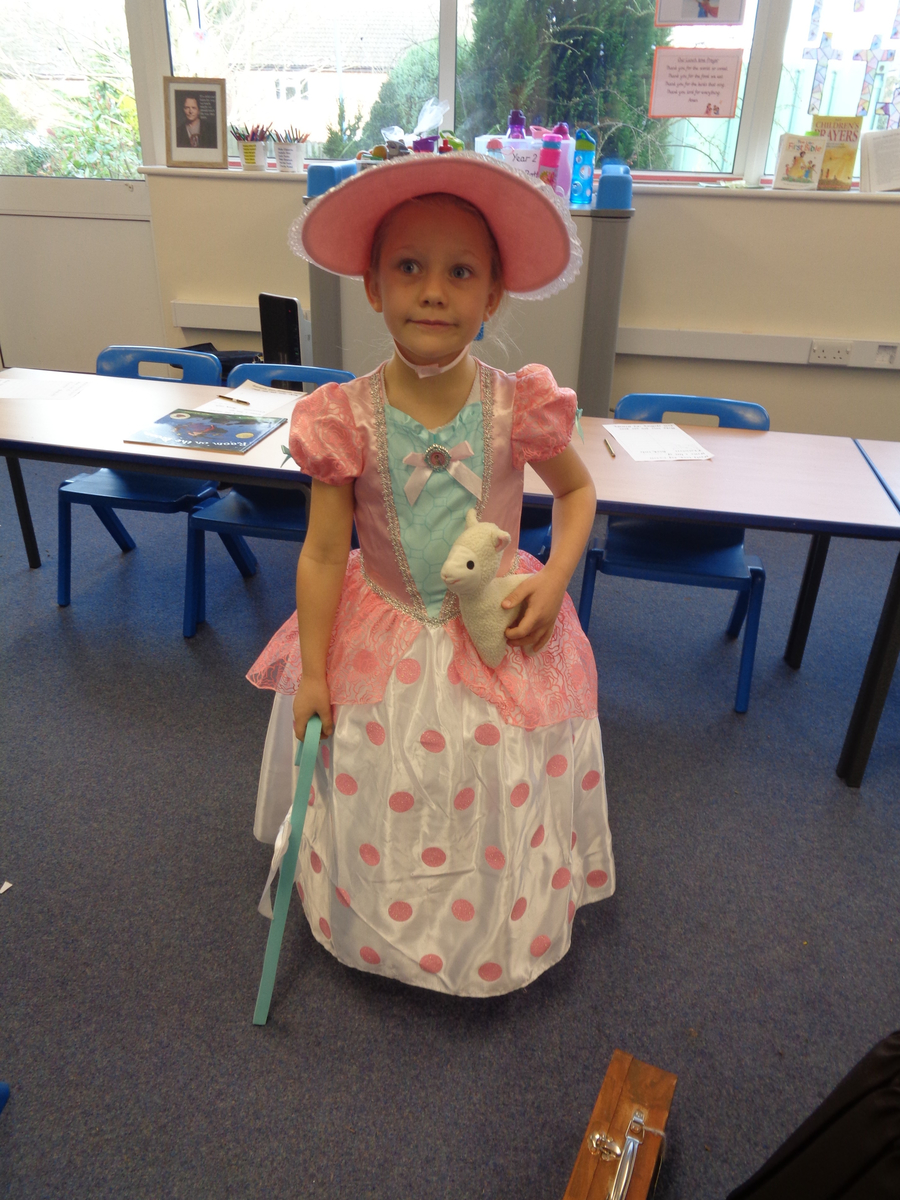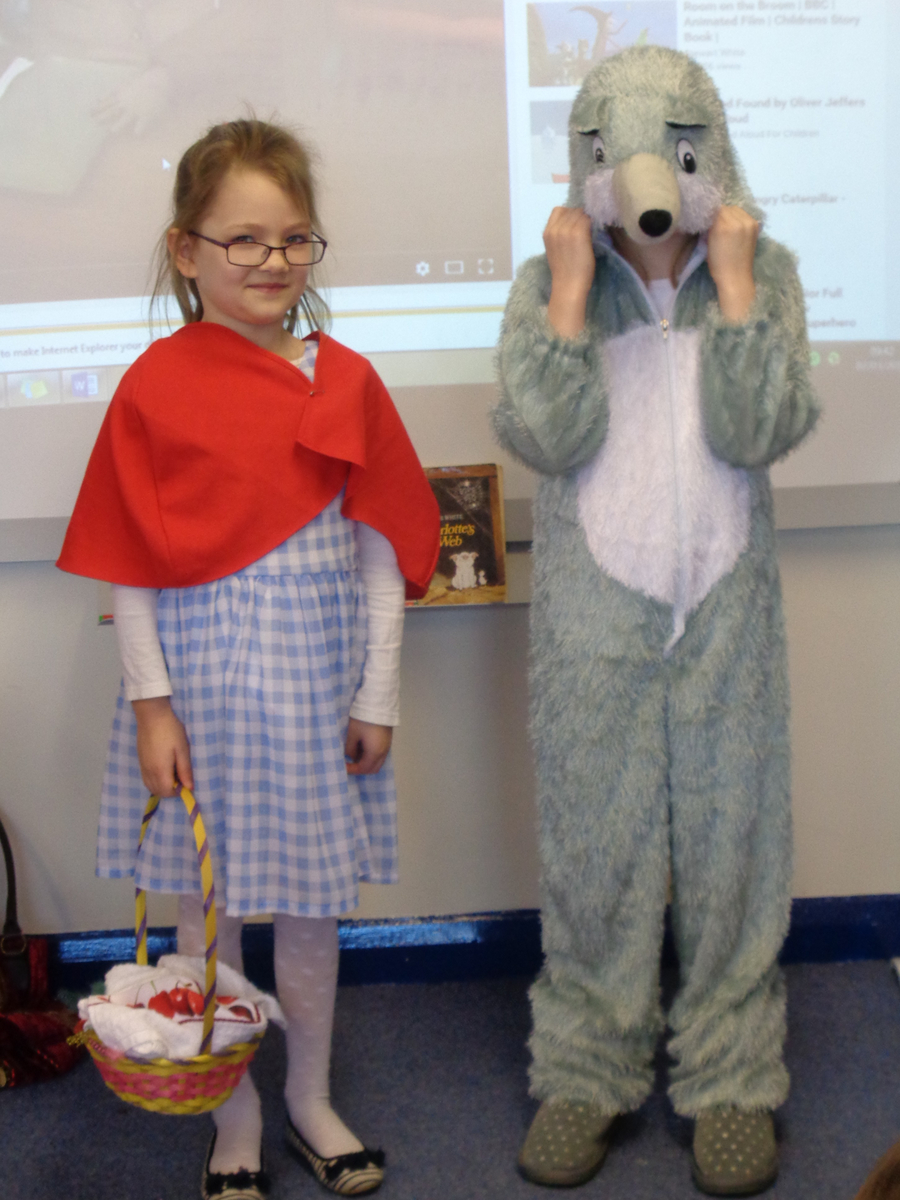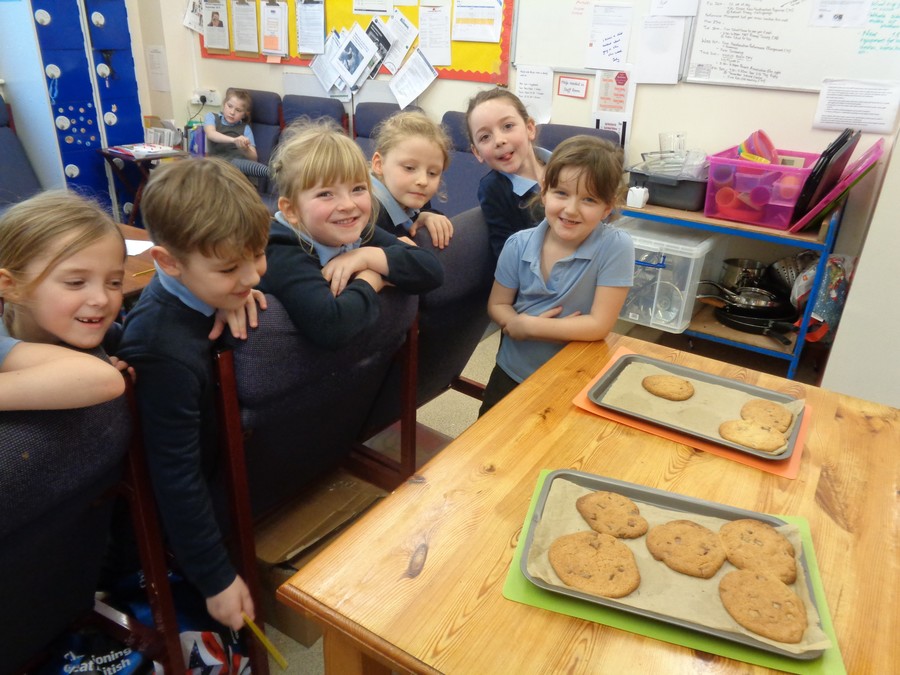 We followed a recipe to discover how materials changed with heat. We used liquids, solids and powders. When mixed together they changed to form a dough. The heat from the oven turned the dough into a solid and delicious baked cookie. The butter melted very quickly.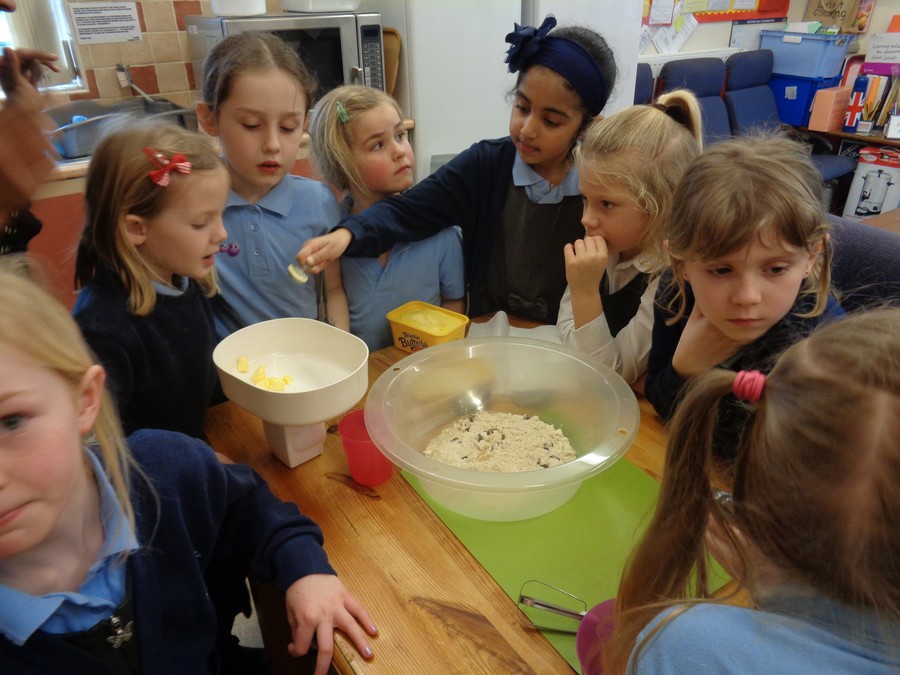 We looked at different materials and their various properties.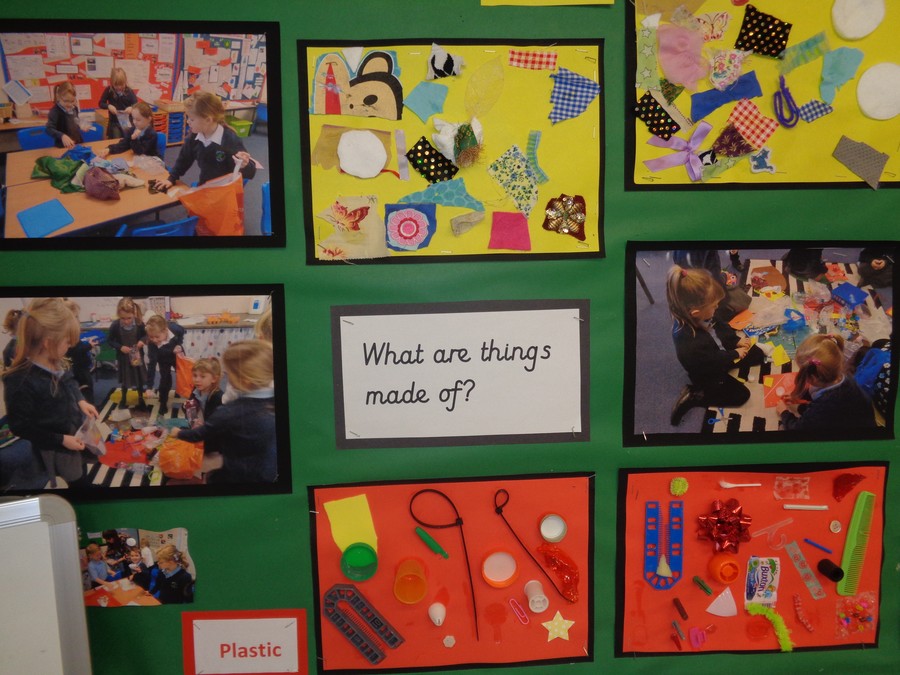 We took down our creative Picasso Faces. We liked the way Picasso had distorted the way people look. We used some of his ideas in our own portraits.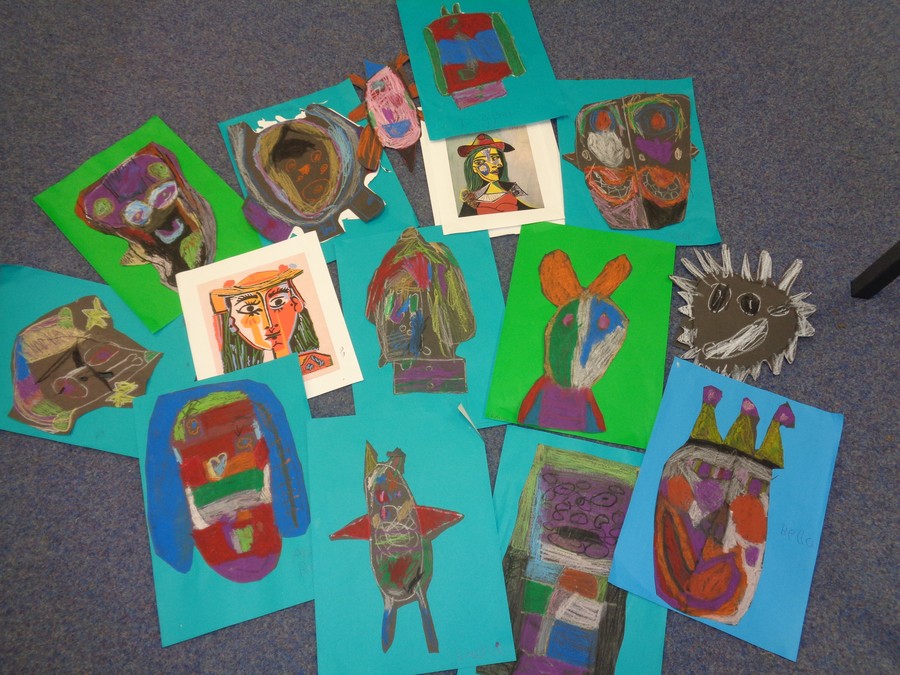 January 2017
We have been using talk for writing to understand the way narrative texts are composed. We use icons to help us remember the sequence of the story line and then we can concentrate on improving our grammar and punctuation.
We now know how to use possessive apostrophes.
We read Julia Donaldson's book, "A squash and a squeeze" and wrote about what belonged to which animal in the story. Next we invented an animal's menu so they could choose a sweet treat and we could use apostrophes when taking their orders.
We will learn about question marks and practice our exclamation sentences next.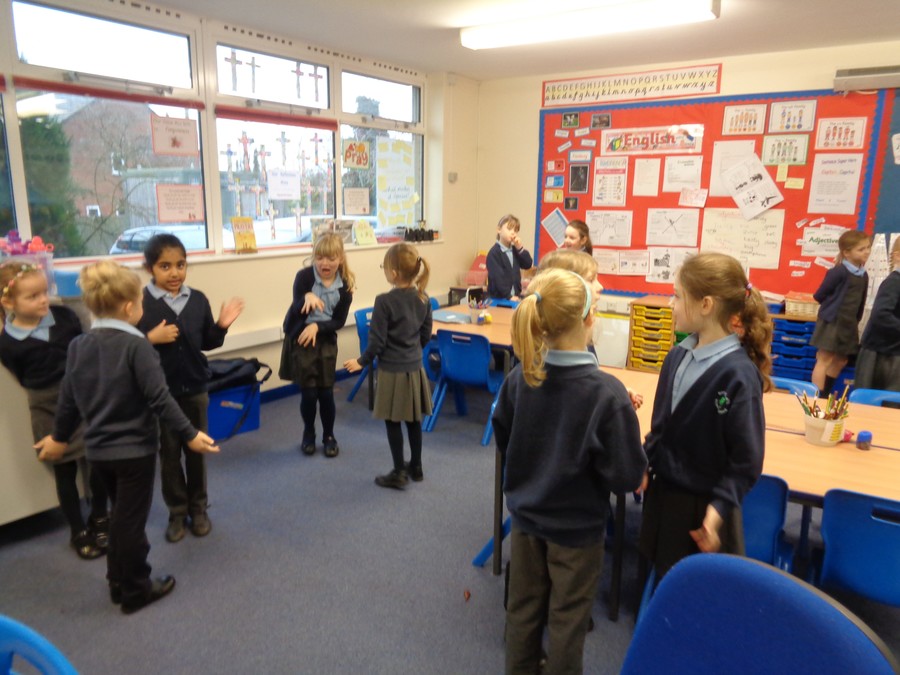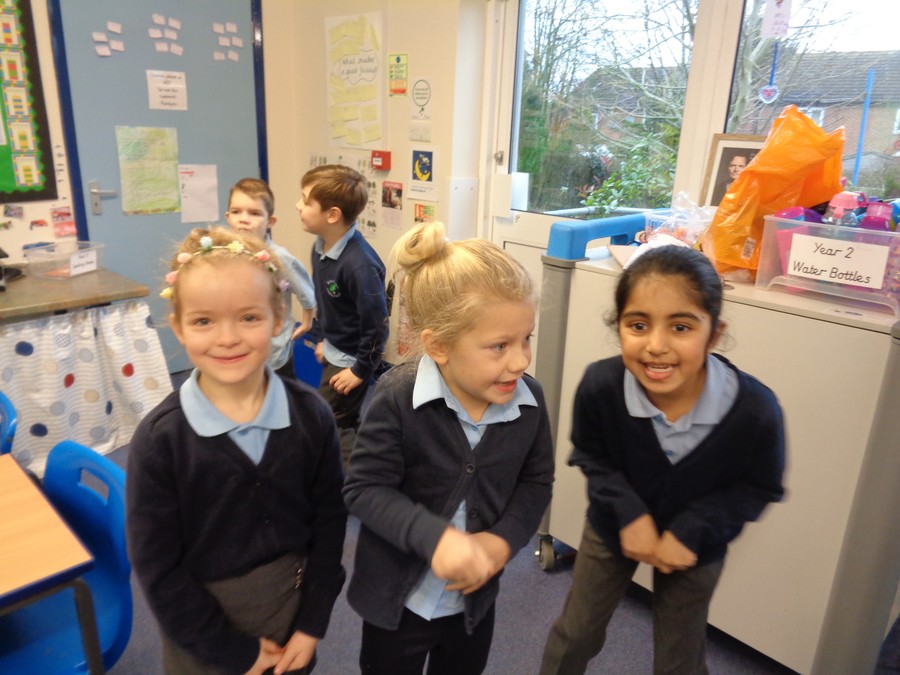 Talk for writing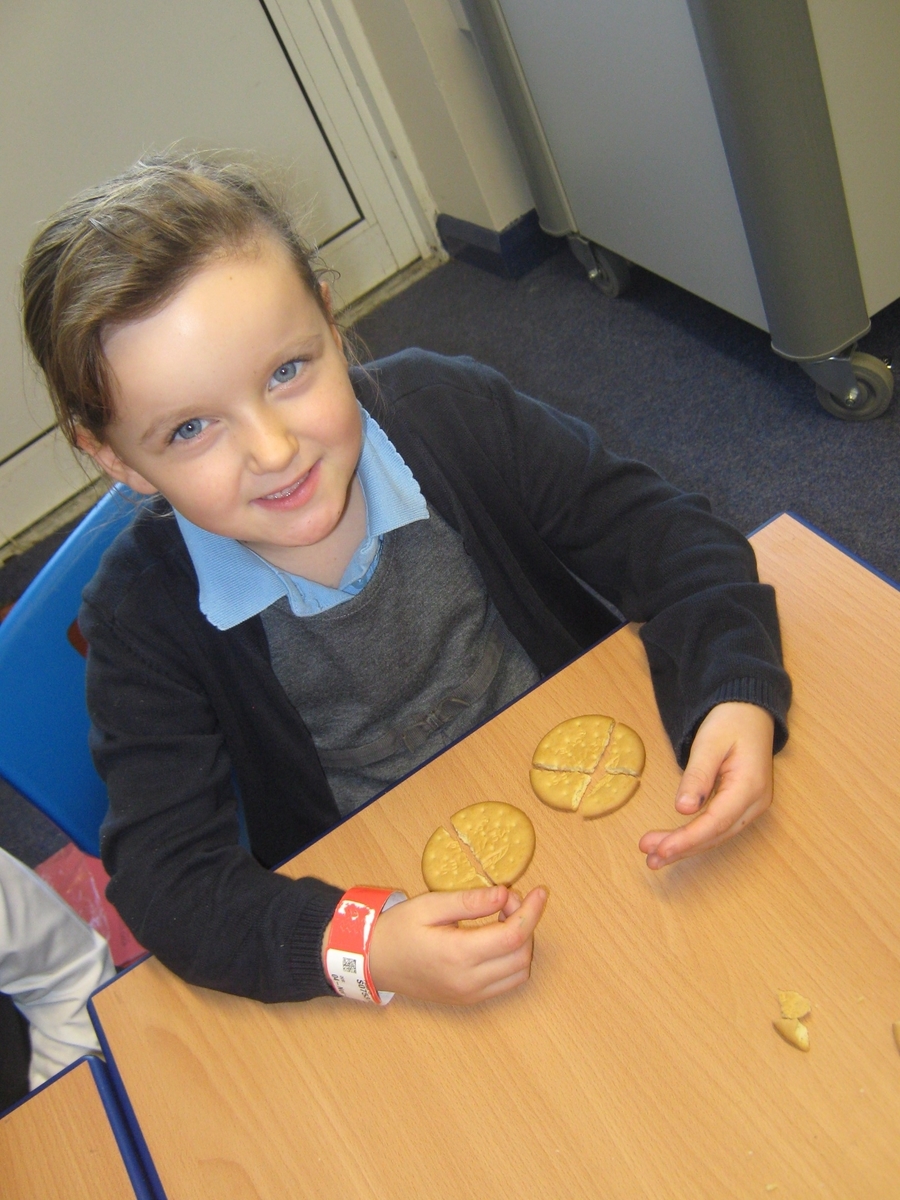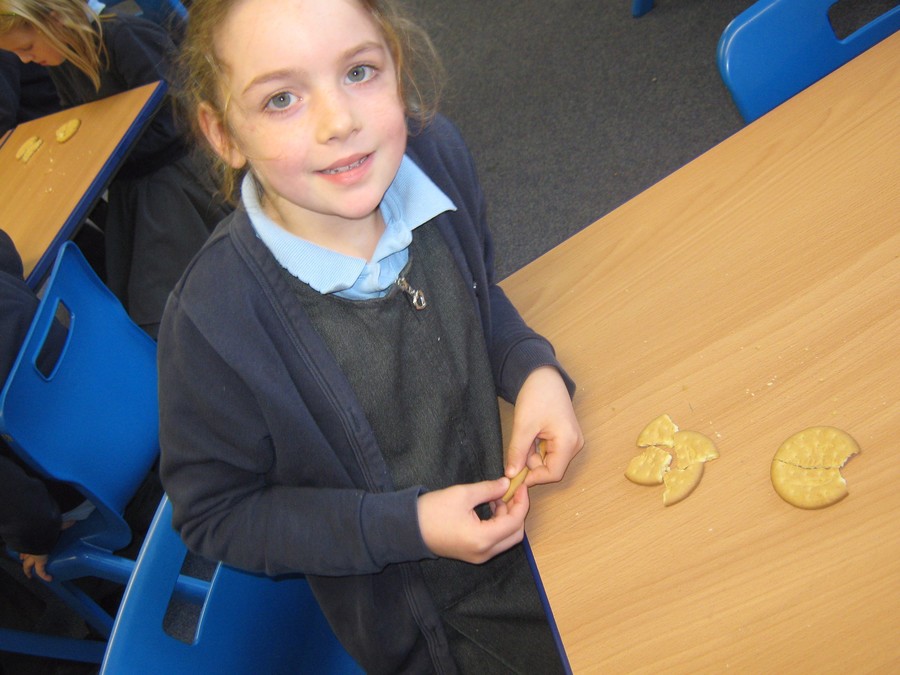 We used biscuits to help us master fractions. It showed us that 2/4 are the same as 1/2. We enjoyed eating both! Some biscuits broke equally but some crumbled badly. This helped us to realise how important it is that fractions have equal parts.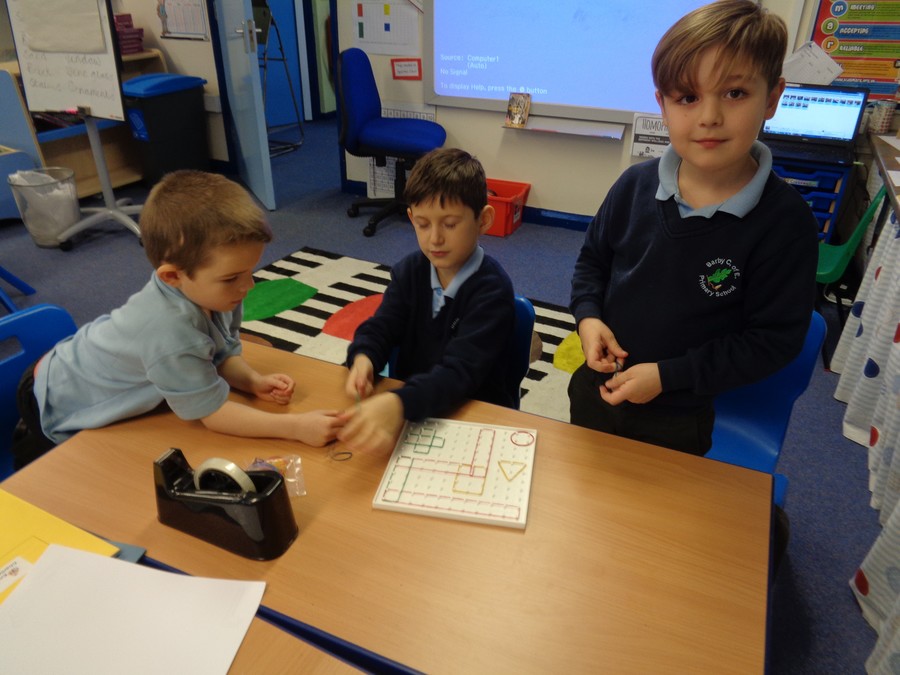 We used Geo boards to make shapes by telling our partners how many sides and corners. We know all about the properties of shapes.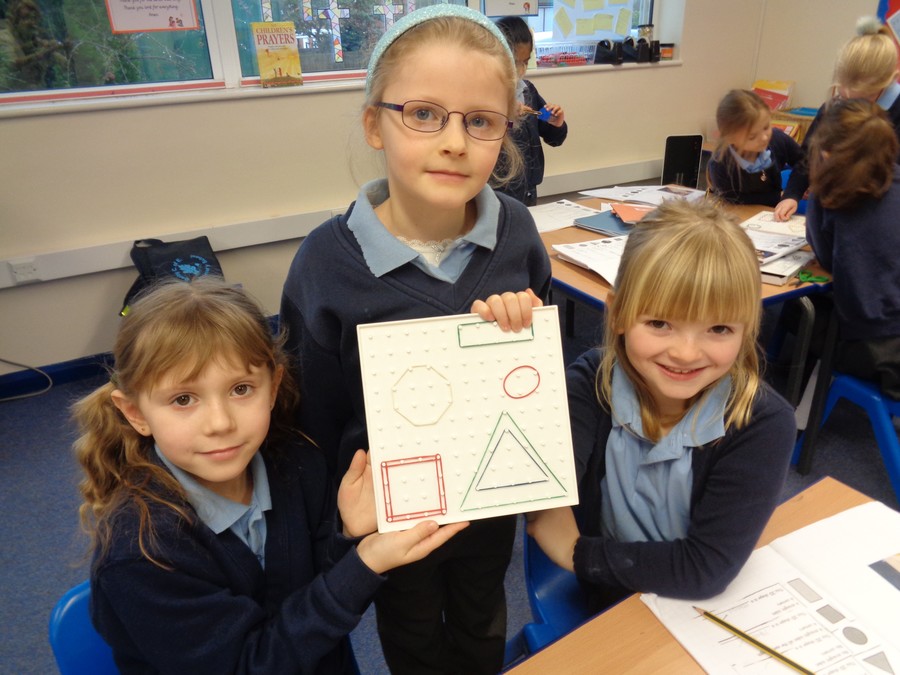 We used rectangles, different triangles, pentagons and hexagons. We discovered that some shapes would fit together if we used another shape to fill in the gaps.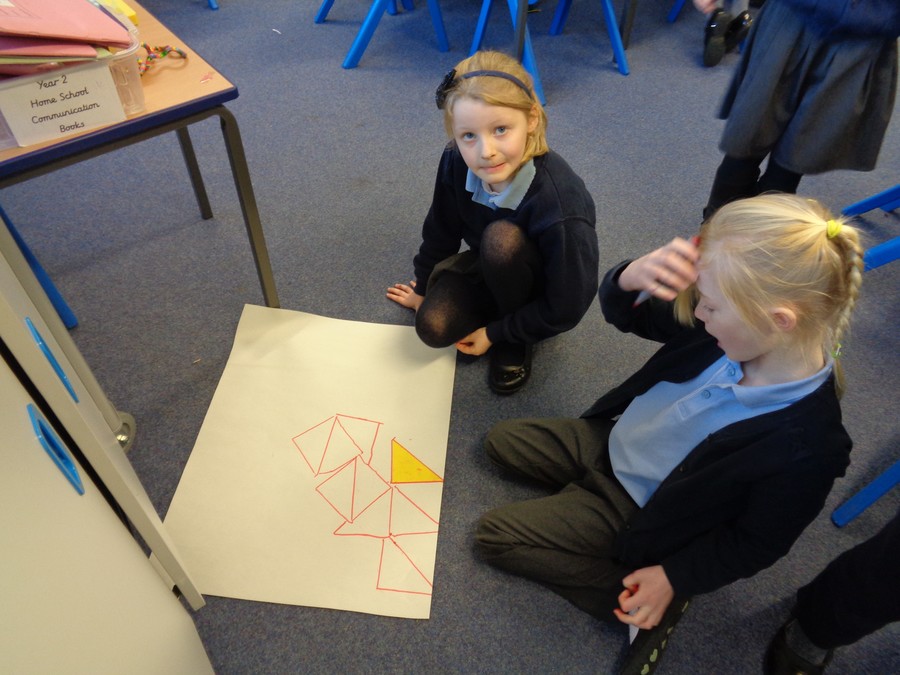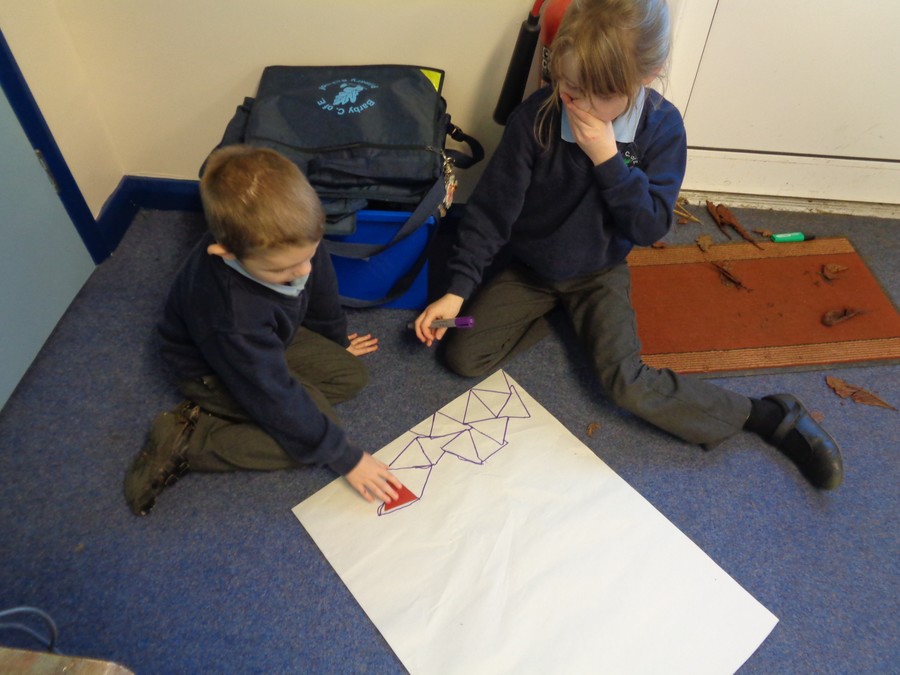 We have been exploring 2D and 3D shapes. Here we are finding out which shapes tessellate.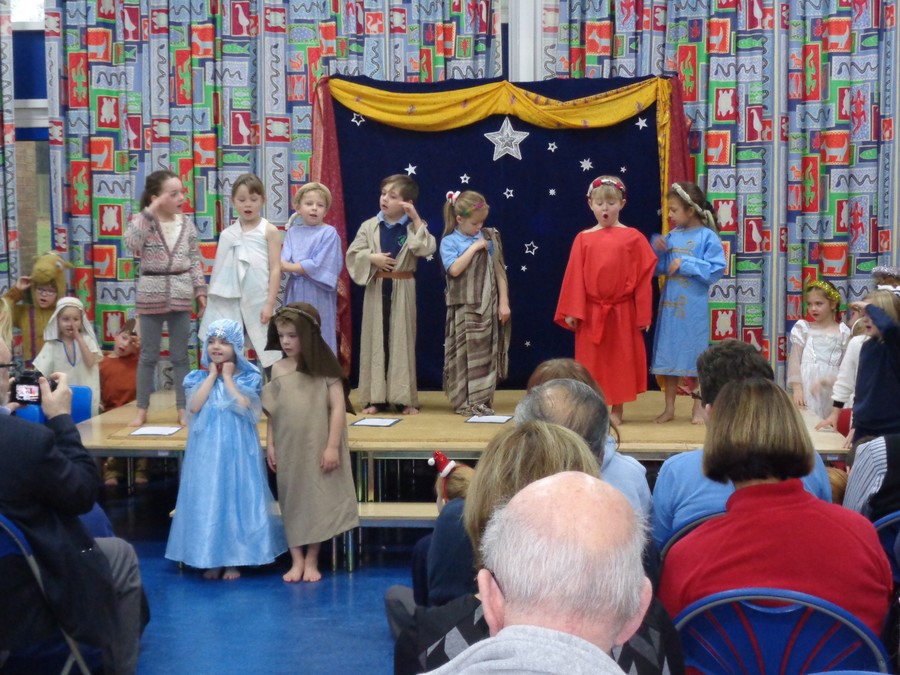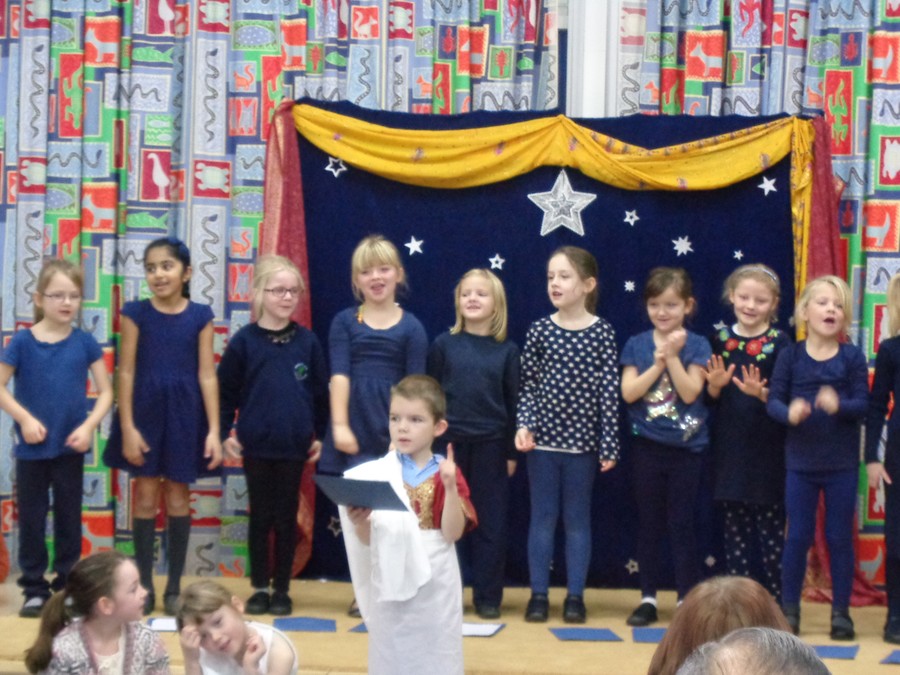 We performed the Christmas Play "Everyone counts at Christmas" We had lots of fun learning the new songs and singing them to large audiences. Thank you to all the friends and families that came to see us.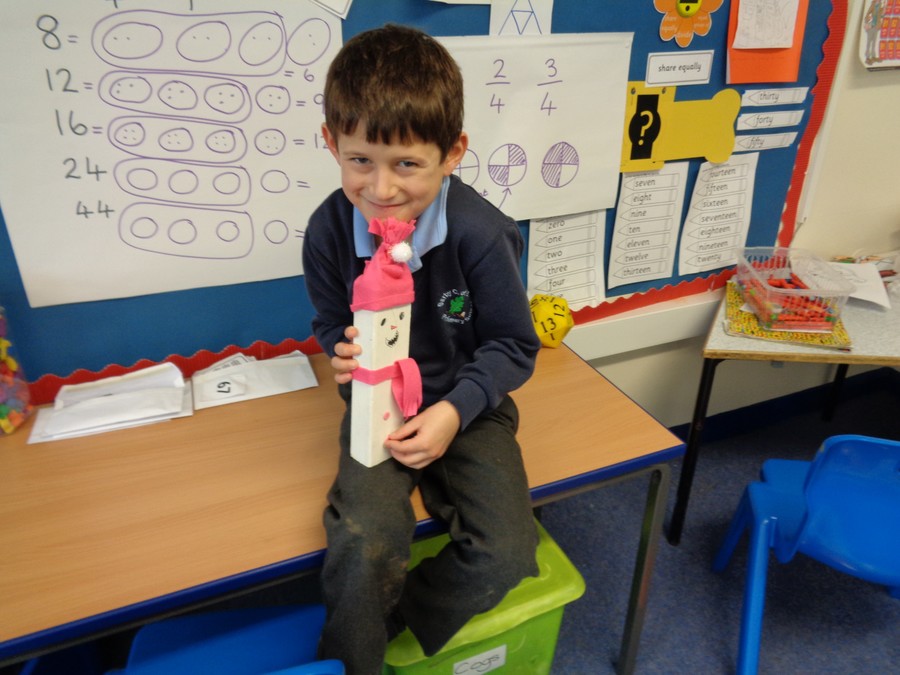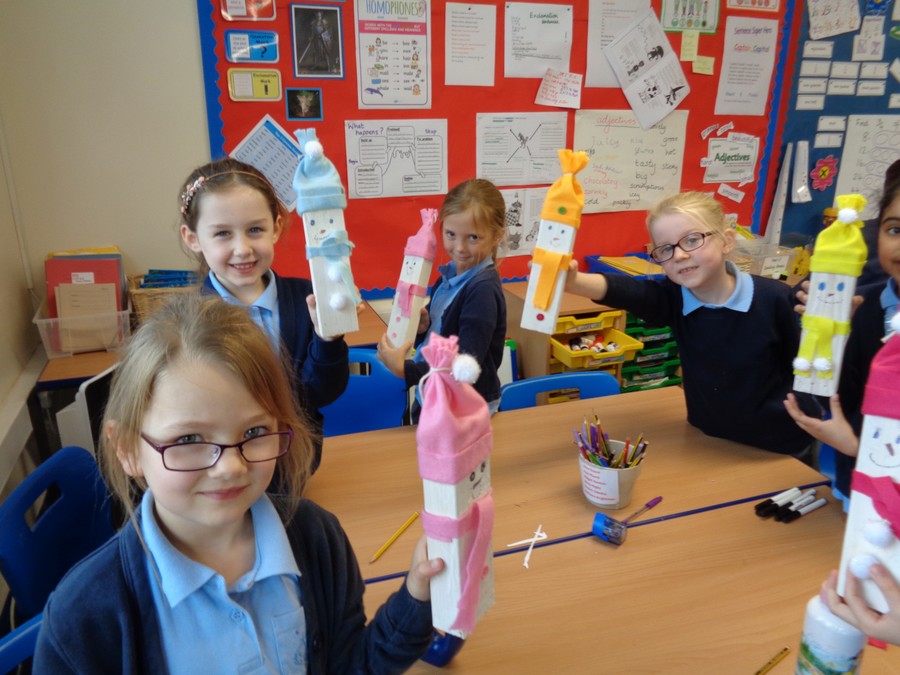 December 2016
We learnt to write and follow instructions and made lots of decorations for Christmas.
September 2016
We had the learning lion come and visit our class.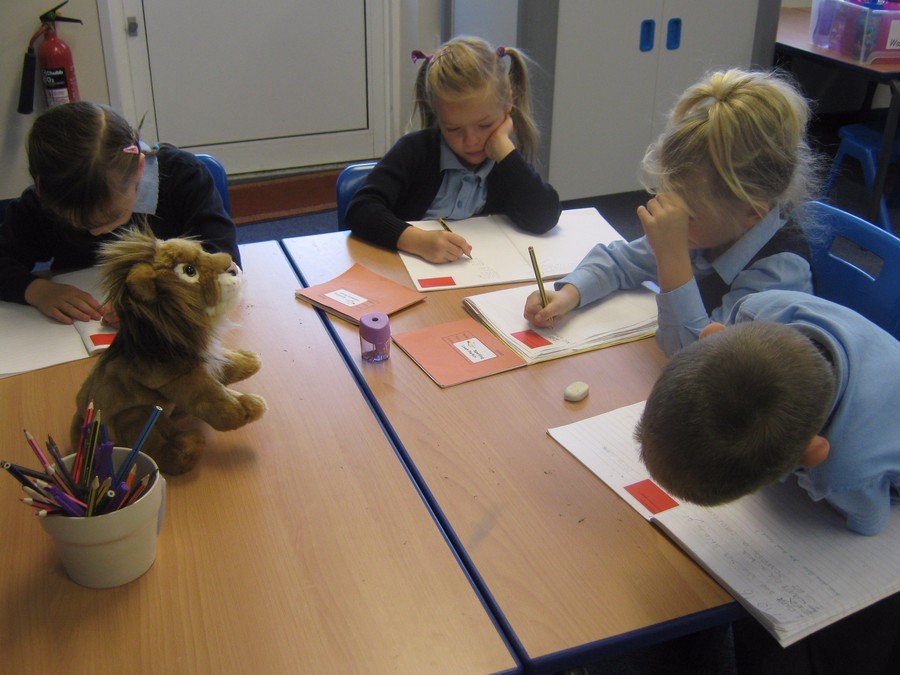 He watched us make up poems for our final "Hot task" in our work about poetry. We used rhyme, rhythm and repeats to make our poetry fun to listen to.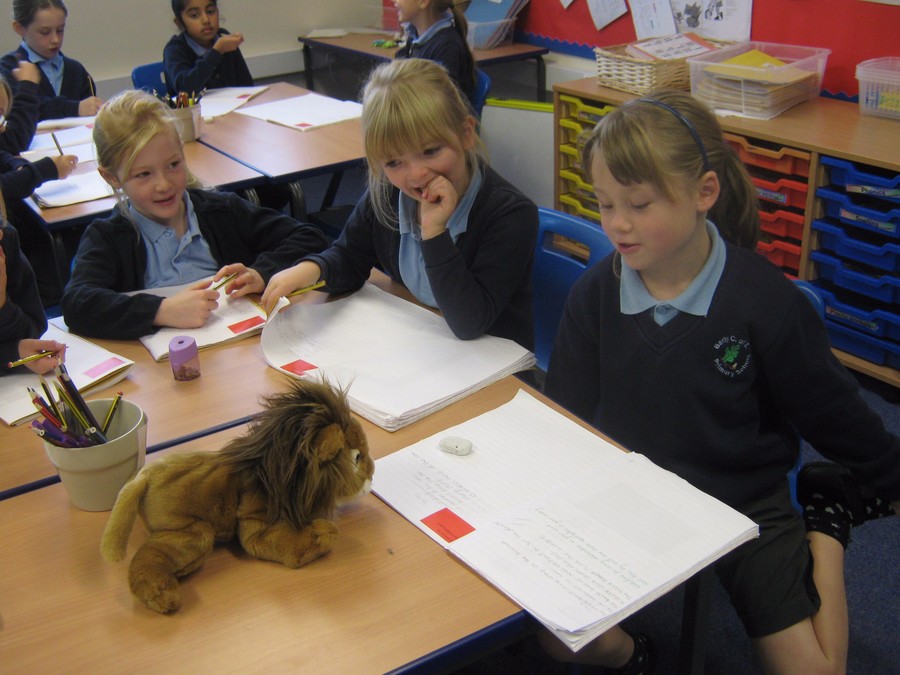 We used adventurous adjectives to choose words for effect. Lion checked that we put in commas when we wrote a list of describing words.
We thought he was a lovely, little, listening lion.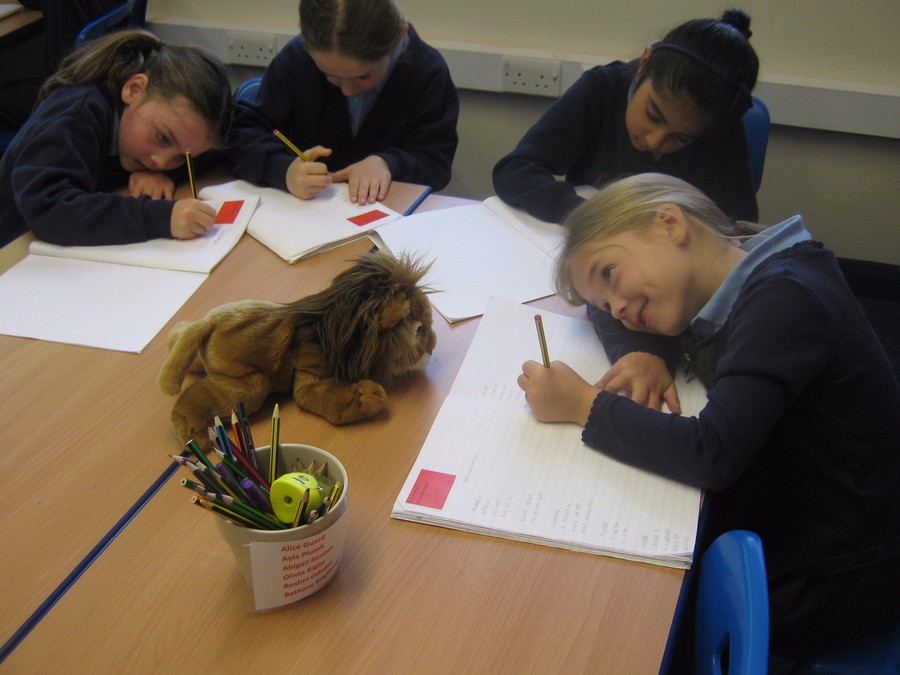 We looked back at our "cold task" when we began our work on poetry. With a partner we compared our work to see how much we had improved.
We all felt proud of the difference in our work.
Topic work... Marvellous me and amazing animals.
We had lots of animals come to visit us in class.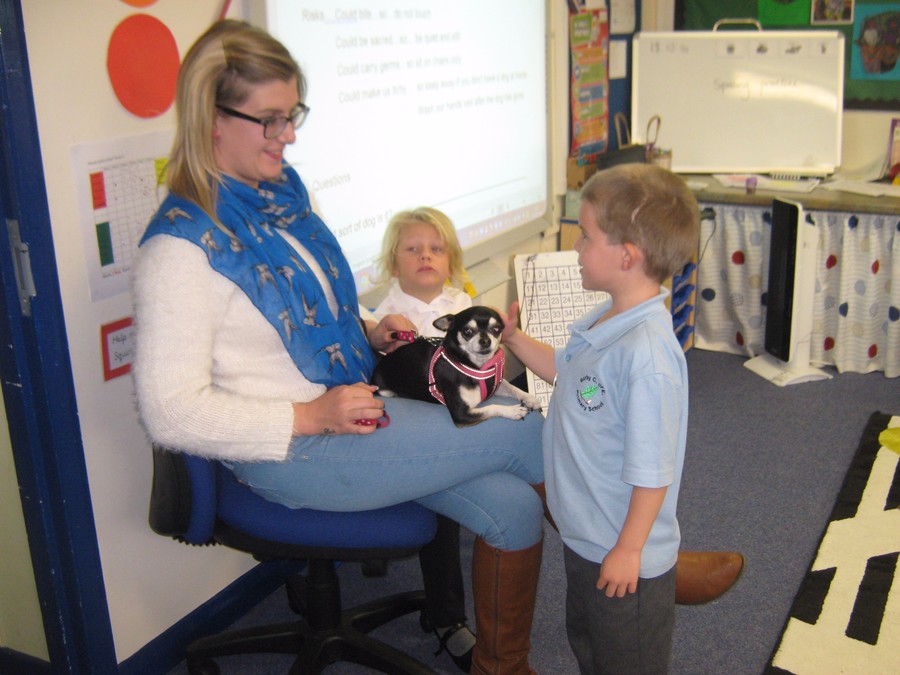 This is Leah's pet chihuahua.
We asked lots of questions to find about about different animals. We learnt what they eat, why they have to go to the vets and what they need to be well looked after and cared for. We learnt about all the pets in our class and the different animal groups.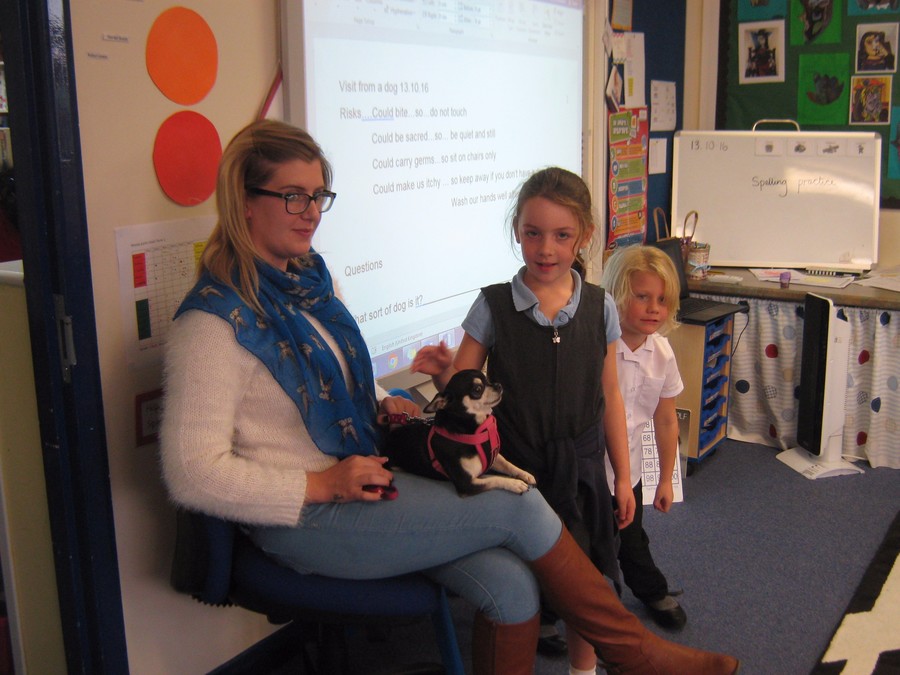 Leah showed us the tricks her clever dog can do. Leah's Mummy made a funny noise that made her howl. What a big noise for a little dog!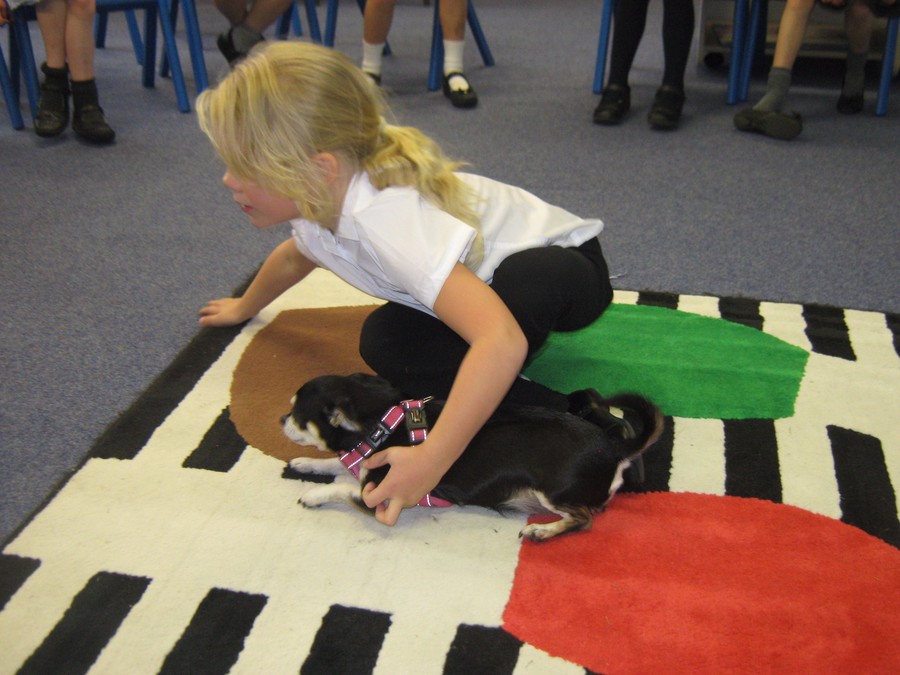 We had Ayla's dog "Roxy" come to see us, we met Isabel's ferrets and saw Mrs Cresswell's gerbils. Look out for more animal information after our farm visit in November 2016.
Thank you to all the parents who helped bring our learning alive, by sharing their animals with us.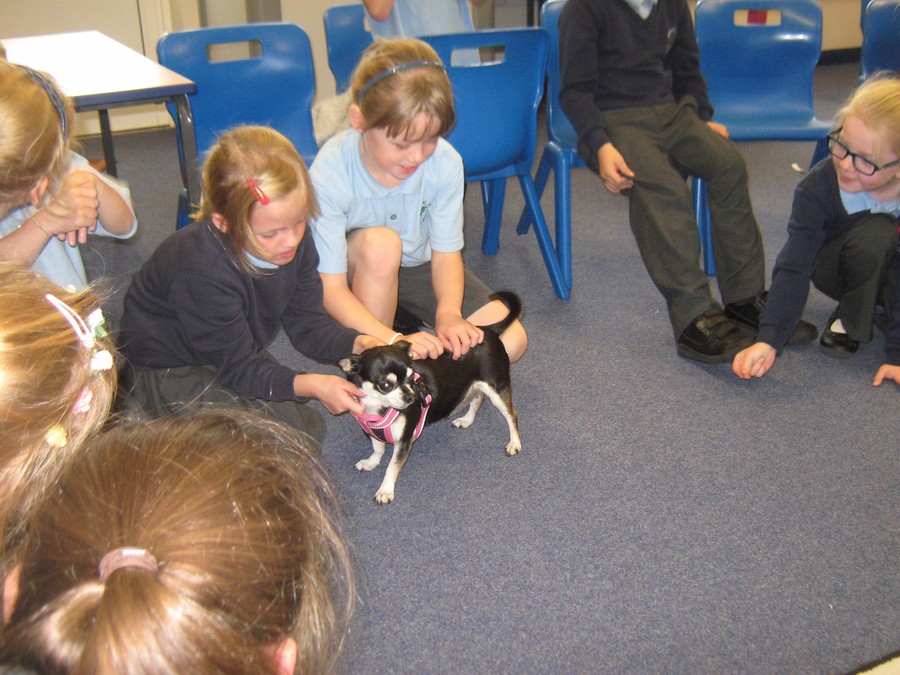 We have been working hard at the start of the new school year!
We have been learning about the seasons.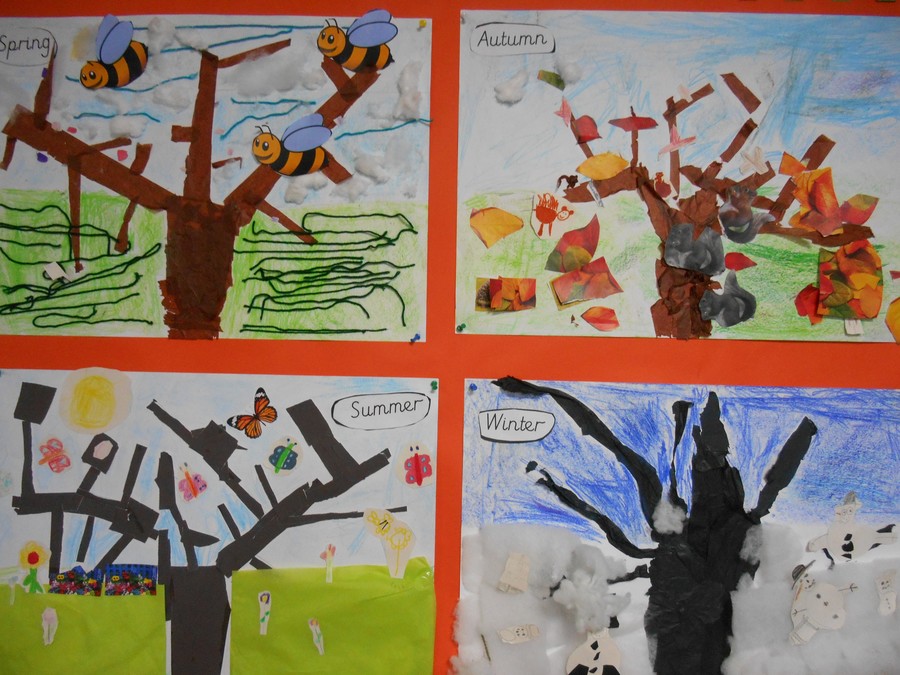 We were learning how to make different paint effects to create our own versions of Van Gogh's "Starry Night".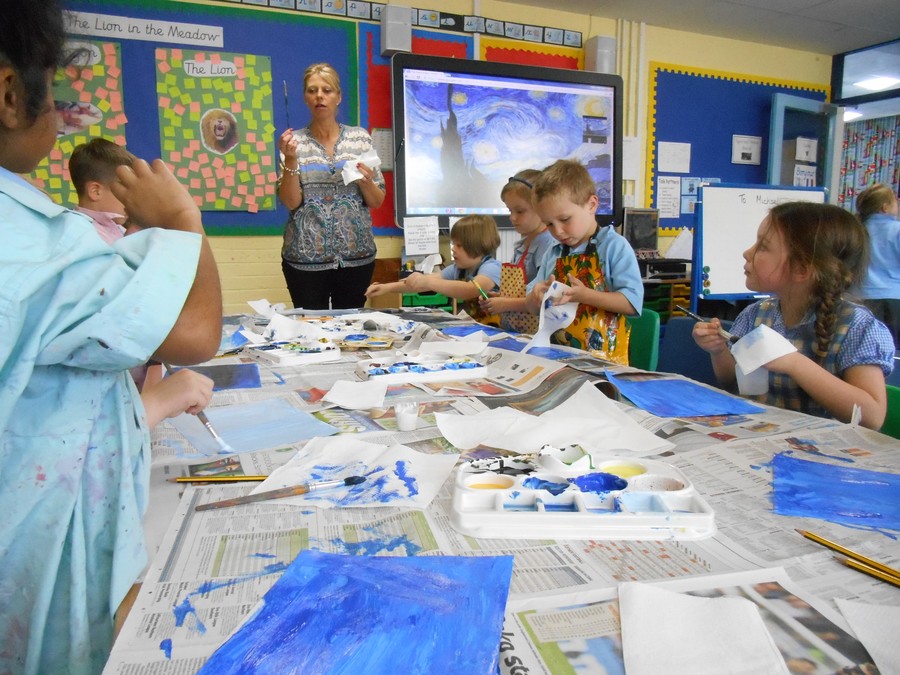 Using the iPads to make pictures.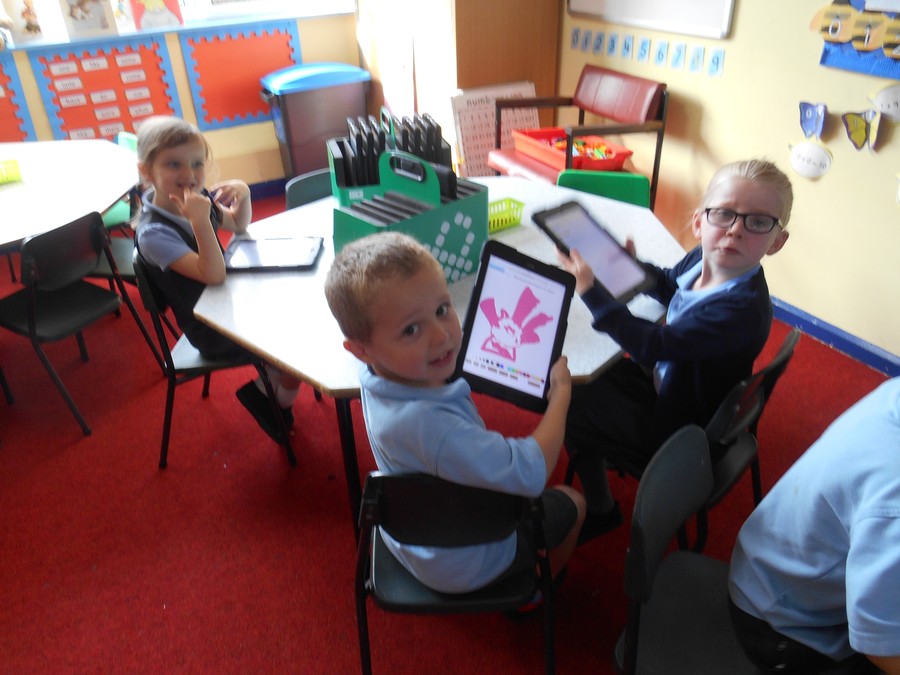 We have been investigating light sources...does it shine or does it reflect?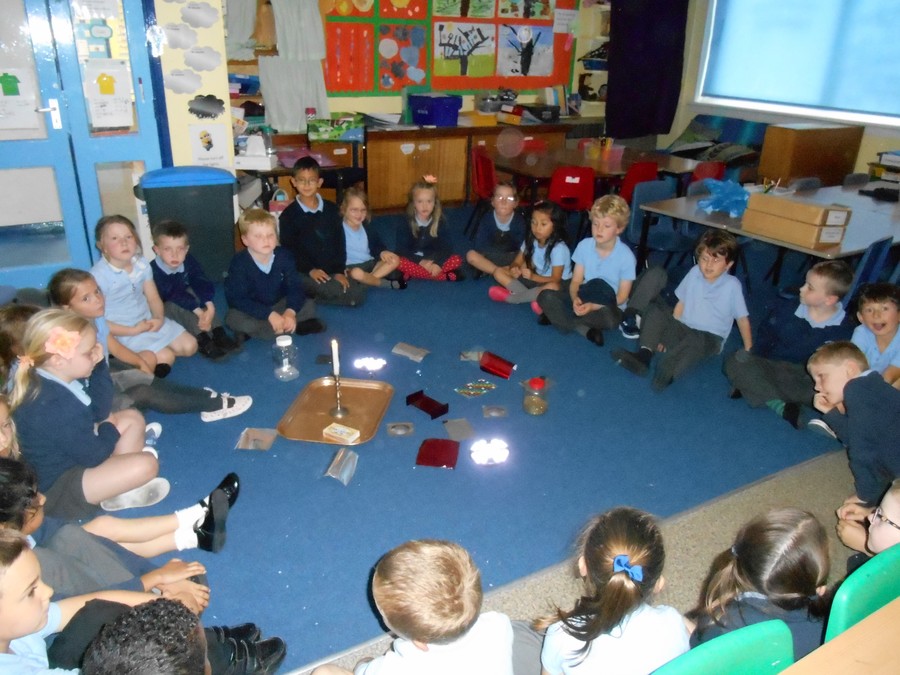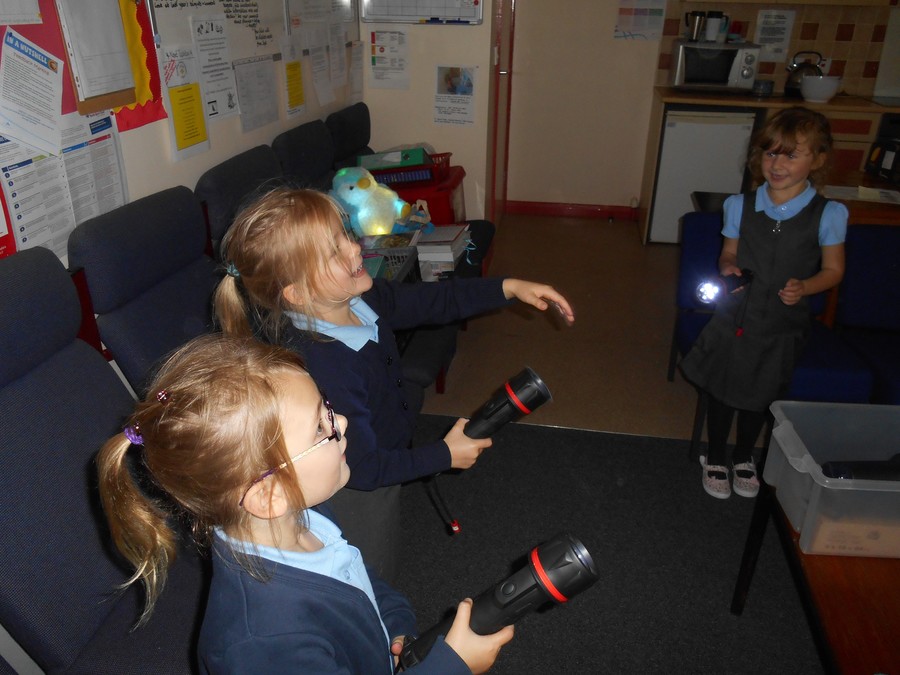 Everyone really enjoyed the football taster session we did,
and the weather was lovely!